Questions
0 Question(s)
Yes. Skyfish Drones are made in America. We design, manufacture, and test our Drones at our Stevensville, Montana HQ and provide local support to satisfy your security standards.
Yes. Skyfish Drones comply with Congress and DoD supply chain standards and is NDAA sec. 848 compliant.
Yes. Skyfish complies with FAA Drone Zone; we lead our customers and Train the Trainer participants (107 Pilots) through the FAA Drone Zone commercial UAV registration process.
Yes. Skyfish is ITAR sec. 126.1 compliant; we ship our UAVs to countries with which the United States does not have a policy of denial of trade.
Yes. Skyfish M-Series drones are checked-in luggage.
Skyfish sells batteries that are compliant (UN38.3 certified safe for airline travel) and batteries that are not compliant for a lower cost.
Skyfish uses custom-made Li-Ion smart batteries.
Skyfish will ship to any country not restricted by international arms trade agreements.
Our flight planning software, Skyfish Mission Control™, covers all pre-, during-, and post-flight tasks and is highly customizable to different industry workflows. Our customers use Mission Control™ to survey grids and terrains, select unlimited waypoints and POIs, geo-tag photos, cache and manage maps, modify flight details on the go, create and manage checklists and user templates, store and manage flight logs and geo-PDF map overlays, and more.
Yes, we can quickly configure our software to meet your specific needs.
Skyfish integrates with Bentley software for photogrammetry and 3D modeling, Pix4D software for photogrammetry and drone mapping, miscellaneous photogrammetry software, and miscellaneous geotagging software.
Skyfish's onboard computer, Skymind™, is capable of supporting hundreds of different payloads. For more detail, please contact us.
Skyfish supports Gremsy gimbals and anything that attaches to them, Sony Alpha series of cameras, Sony QX series of cameras, FLIR cameras, and a variety of thermal imaging equipment, RICO, LiDAR, emissions systems, infrared cameras, robotics equipment, and very specific payloads.
Our onboard computer, Skymind™, allows us to integrate almost any type of sensor and appropriate drivers. Skyfish will contact the manufacturer of the sensor of your choice to acquire engineering drawings and design your drones accordingly. Skyfish engineers will ensure easy integration from a hardware and software perspective and get you the best results.
Yes. Our machine shop can create custom mounts as required. For more detail, please send us a message.
Yes. Our drone platform is built-in modules, so we can update your drone as required.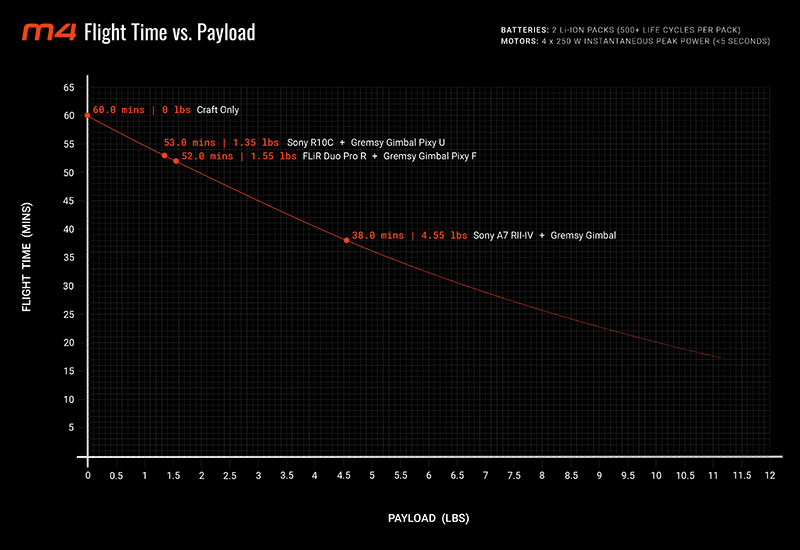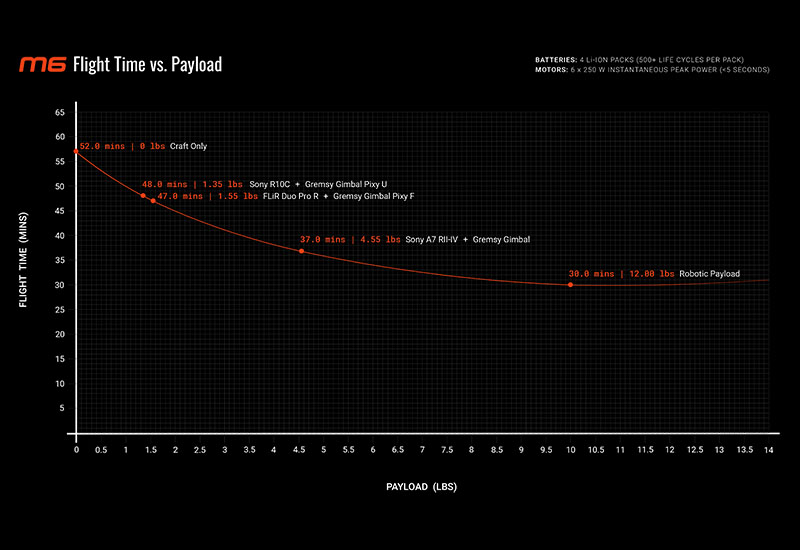 The Skyfish M6 is a serious machine. It can lift up to 20 lbs, easy. If you require heavier payloads, Skyfish can design a power system for you. Send us a message for more details.
The M4 and M6 drone's maximum flight distance from a point to point is 7.5 miles (12 km).
It arms the drone and prepares it for flight.
You can access flight logs through Skyfish Mission Control™'s flight planning software.
Each Skyfish drone comes with: The Skyfish drone platform, 2 sets of flight batteries, charger and charging case, power supply (battery or generator), Pelican™ travel case, Skyfish remote controller, RTK GPS, propellers (2 sets of 4 for the M4 drone and 2 sets of 6 for the M6 drone), landing gear, repair kit, user manual, and more (depending on customer specs).
Yes. Contact us by email or phone to make an order.
Your order will be shipped up to 45 days after it has been placed and received.
FedEx, USPS, DHL, UPS, air or ground.
Skyfish provides an order tracking number at the time of shipment which can be followed through your chosen courier.
If you were able to navigate your way to this website, you can fly a Skyfish Drone. Your order will come with our User Manual and QuickStart Guide, and our engineers and support team are available for you Monday through Friday.
RTK stands for Real-Time Kinematics, which allows you to adjust your position in real-time and does differential analysis of the signal.
Yes, but with reduced features and functionality.
The maintenance schedule for your Skyfish purchase involves post-flight inspections, monthly bearing inspection, propeller replacing every 6 months or sooner, motor rebuild (bearing kit) every 6 months.
The projected lifetime target for your Skyfish Drone is 1-2 years with regular maintenance based upon operating environment, site conditions, and pilot care.
Yes, Skyfish offers repairs Monday through Friday, 9am-5pm MST. Read this document to learn if you qualify.
Skyfish is the most flexible, customizable drone manufacturer and platform available. We can configure your drone order to meet your specific requirements.
Skyfish customers receive Level 1 phone support Monday through Friday, 9am-5pm MST.
Level 2/3 support, feature requests, and new functionality upgrades are available at a customization cost as you require. Skyfish can offer customization services for the entire craft because we support all of the technology from the bottom of the landing gear to the top of the GPS antenna.
We are more than happy to answer any and all questions. Send us a message or give us a call at 1-844-SKY-FISH (1-844-759-3474)