How computer science PhD, a high-tech CEO, and an RC hobbyist with a famous podcast developed some of the most accurate drones for engineering on the market — in Montana.
This story was originally posted by DroneLife.com
Skyfish was started in 2014 — but until January 2021 when the company announced the formal launch of their platform, they've been operating under the radar (that's "stealth mode" for the drone industry), but not for their world class technology partners (Sony, Bentley Systems) and for their clients. Based in Missoula, Montana, Skyfish is poised to make an impact on the global commercial drone market. DroneLife spoke with their founders to learn more about Skyfish Autonomous Work Drones™, engineering-grade accuracy, and what it means to be producing drones made in the U.S.A.
Skyfish CEO Dr. Orest Pilskalns grew up in Missoula. He completed his Bachelor's in mathematics and physics and his Master's in computer science at the University of Montana, worked in Lockheed Martin Astronautics' Image Understanding Lab coding ground-breaking machine learning technology, and then completed his PhD in computer science and mathematical approaches to secure, scalable software engineering design at Washington State University.
It was while teaching at WSU that he met Skyfish Chairman John Livingston, then a high-tech CEO. "Together, with the help of my graduate students, John and I founded GeoMonkey, Inc., a technology company to build a web-based map collaboration platform," says Pilskalns. "Eventually, GeoMonkey grew to be the foundation of drone planning and navigation software."
After moving back to Montana in 2013, Pilskalns reconnected with high school friend Dan Reed, an expert hobbyist and in RC helicopters and podcast host who recognized the value of mapping technology in the drone community. Talking to customers and providers at drone shows, the team realized that the commercial drone industry was the right place for their ideas.
"John, Dan, and I decided to jump headfirst into drone technology and started Skyfish in 2014, to create an end-to-end platform for scanning infrastructure and creating engineering grade models (3D reality models) using photogrammetry," says Pilskalns. "Skyfish uses several hardware and software trade secrets to modify the traditional photogrammetry process to create models with the best level of accuracy in the business."
The Skyfish Solution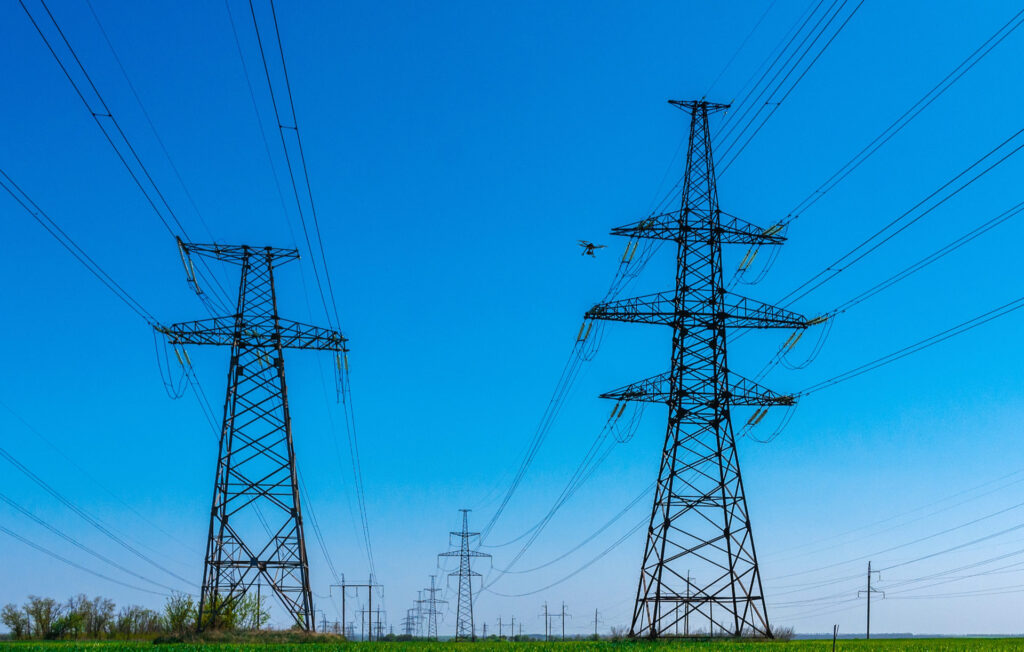 The Skyfish.ai solution includes Skyfish M4 and Skyfish M6 commercial drones, a long-lasting battery system and a unique ruggedized remote controller.
"The Skyfish M4 drone is specifically designed for photogrammetry and the creation of high-fidelity 3D reality models for engineering grade inspection and measurement of critical infrastructure." says a company press release. "The Skyfish M6 drone is designed specifically for heavier payloads and environment-aware robotic interactions. For example, the M6 can carry 12 lbs for over 30 minutes and trigger BVLOS mechanical actions up to 5 miles away."
"Both the Skyfish M4 and M6 can support a variety of payloads, including electro-optical, thermal, methane detection, LiDAR, and can integrate with most any custom payload requirement(s)." Manufactured at a plant in Missoula, Montana, the Skyfish M4 and M6 drones are made in the U.S.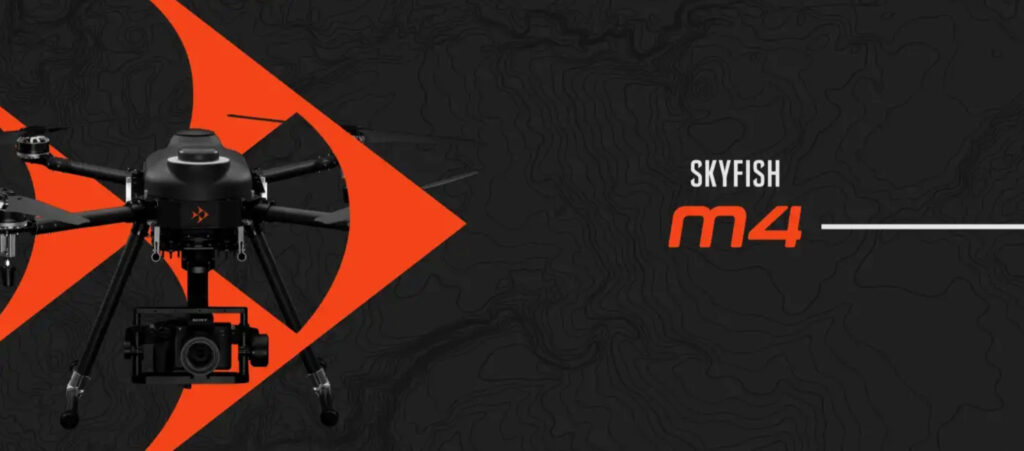 Drones for Engineering
The Skyfish.ai solution is purpose designed to meet the exacting requirements of infrastructure inspections. A veteran of high-tech businesses, Livingston says that the team understood from the beginning that they needed to base development on customer needs. "Orest and I knew that to make engineering grade decisions the data collection process needed to be trusted, very accurate and precise," says Livingston. "Because we were measuring critical infrastructure targets like cellular towers, the customer needed to know the exact height of a 200 ft. tower — so, we built a drone with the right combination of RTK location technology and cameras to deliver a 3D model that engineers could trust for near-perfect accuracy."
Skyfish promises accuracy to 1/32 of an inch, a level of precision that Pilskalns says involves the entire inspection process: from data collection to processing and viewing the data. The Skyfish.ai platform includes new drones, a new onboard computer (Skymind™), new ground control software, and a new web-based processing and analytics system (Skyportal™).
"Accuracy is a little bit of everything. The saying "garbage in equals garbage out" is very true," say Pilskalns.
"Skyfish creates the most accurate 3D reality models in the world today — that's what our wireless provider customers tell us," adds Livingston. "We're the only company in the world that makes drones specifically for 3D modelling — and we also do our data processing in-house for increased, controlled end-result accuracy."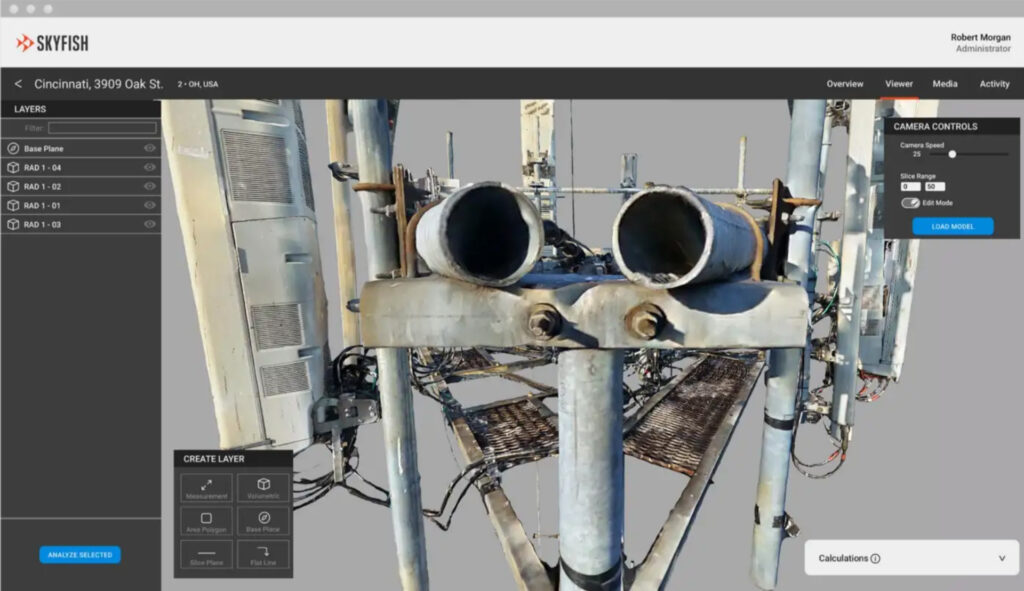 Commercial Acceptance and Ease of Use
2021 is the perfect time for Skyfish to come out of stealth mode and offer their world-class drones for engineering. The commercial drone market is soaring as infrastructure companies recognize the significant benefits of the technology.
"Drones provide an accurate, scalable solution to understanding tower inventory from several different perspectives including maintenance, sales, and engineering," says Pilskalns.
"The tower industry is adopting drone technology because it's safer, cheaper, and the measurement and inspection result is of a much higher quality compared to that of a manual climb," Livingston adds. "Also, just being able to share a permanent, perfect 3D reality model scan with your colleagues and customers is incredible. There's so much detail, you can zoom in to see every single inch of the tower and compound. And you can do engineering analysis and even export the model into Risa and CAD for creating drawings and conducting simulations."
Developments in autonomy and increased ease of use have also contributed significantly to enterprise adoption of drone technology, allowing subject matter experts to utilize drones in the field.
"Our drone is designed to be quickly deployed so pilots can be efficient in the field," explains Pilskalns. "Once the drone is removed from the case it's essentially ready for work."
"The workflow to inspect and scan a cell tower is simple," says Livingston. After marking the height of RAD centres and the center of the top of the tower — a software guided process that takes a couple of minutes — "the Skymind™ onboard computer activates and generates all required orbits for a perfect model, executes the flight path, and takes approximately 1500 hi-res images — all autonomously."
Then, the pilot uploads the photo data to our Skyfish Skyportal™ data center and within hours a crystal clear 3D reality model is generated, analyzed, team-shared, and exported," Livingston says.
Drones made in the U.S.
The burgeoning U.S. drone industry is thriving. Amid recent developments in the U.S. — China trade conflict and U.S. concerns over the security of Chinese platforms, Skyfish has generated significant interest; but Pilskalns says there are other reasons companies are choosing drones made in the U.S. "Work drones need to be customized per vertical. Being close to the customer and understanding their needs is a key to success in any business," he says. "I think being co-located with infrastructure companies helps us create custom, functional solutions. Support is easy when you are in the same region."